Liverpool have closed the gap on Premier League leaders Chelsea after they recorded an emphatic win over Southampton. The Reds were able to reduce the points deficit between them and Chelsea thanks to the impressive 4-0 win over the Saintsat Anfield.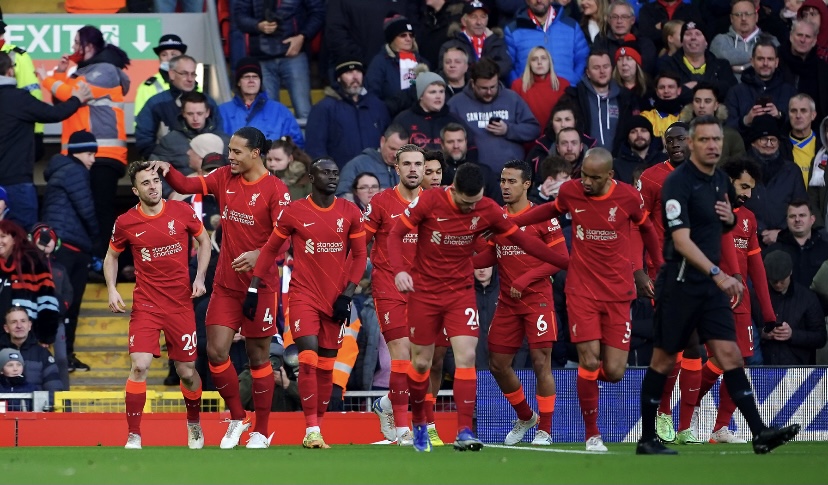 The Reds began the Southampton game like a house on fire and it took them just two minutes to break the deadlock thanks to the goal from Portugal international Diogo Jota off the assist from Scotland captain Andy Robertson. Southampton kept Liverpool at bay until shortly after the half hour mark when Jota completed his brace. The ex-Wolves man scored the second of his two goals on 32 minutes.
Spanish international Thiago Alcantara scored his first Liverpool goal during the straightforward 2-0 home win over FC Porto in the Champions League on Wednesday and he made it two goals in as many games with the third Liverpool goalvia a shot which took a deflection to leave Alex McCarthy in the Saints goal wrong-footed.Five minutes separated the second and third Liverpool goals.
At the end of the first 45 minutes, the brace from Jota and the Thiago goal gave Liverpool a commanding lead. The Reds had three goals to their name without conceding any at the half-time break.
Liverpool had done all the work in the first half as they were not as focused in the second half as what was experienced in the first 45 minutes. Despite taking their foot off the gas, Liverpool were still able to score a fourth goal seven minutes into the second half through Dutch player Virgil Van Dijk. It proved to be the fourth and final goal of the game.
The Reds have been able to recover from a big setback when they lost to West Ham United away from home. They have now won all their games in all competitions since the West Ham game.
Liverpool are just one point off leaders Chelsea on the league standings after the home win over Southampton. Chelsea are not in action until when they take on visitors Manchester United on Sunday evening.